Experience the Diversity of Austin's Culture
As you stay active within our community, you'll also discover worlds of adventure that also await in exciting Austin! The city is known for outstanding food, a diverse music scene, and outdoor adventures sure to keep you young. Austin is rapidly rising in popularity as a place to live and visit, thanks to its fantastic environment of friendly locals who welcome newcomers with true Southern Hospitality.
Downtown 6th Street
The place where all the action is i.e., live music, boutiques, galleries, cafes, theatres, restaurants and many curious adventures. This unique stretch of downtown is full of sights, sounds and scents to keep you running from one establishment to the next!
Zilker Botanical Garden
On the shores of Lady Bird Lake, you'll surely be awed by Mother Nature. This branch of the Botanical Garden is devoted exclusively to native plant life. It's just a few blocks away and is taken care of by the University of Texas at Austin.
Austin: Live Music Capitol of the World
Enjoy the whole music scene Austin is world-famous for. They don't call it the live music capital of the world for nothing. So, if music is your thing, from country to classical, Austin is the place! Just open the local papers and see what happens where.
SXSW – South by Southwest
The world's largest annual film/music/interactive conference draws 20,000 to Austin each year. The event includes live performances by well-known artists and some who'll soon be future superstars. The nine-day long events go non-stop, with many free events.
Circuit of the Americas
The ultimate destination for racing and entertainment, Circuit of the Americas racetrack is the place to be in Austin! Home to Formula 1, MotoGP, INDYCAR, Amphitheater for year round concerts, COTA Karting, Austin Bold FC Minor League Soccer and so much more, this exciting venue is only 5 minutes from The Reserve.
Endless Area Lakes
The many lakes in the area are a major attraction. Lake Travis, Lake Austin, and Lady Bird Lake are known as the 3 largest lakes within the Austin Area, Lady Bird Lake runs right through the downtown area and several parks where you also enjoy live music.
Historical Sites
Fredericksburg and Gruene swap the honor of the being two of the most notable, historic sites in Austin. Both feature homes built in the later-half of the 1800s which now house bed and breakfasts, antique stores and gift shops…and the ethnic food speaks for itself.
A "Batty" Adventure
Curious about bats? The Ann W. Richards Congress Avenue Bridge houses the world's largest urban population (@ 1.5 million) of Mexican free-tailed bats under their bridge. Nearly 100,000 spectators arrive each year to watch the bat's daily emergence at sunset.
Barton Springs Pool
Barton Springs Pool is a recreational outdoor swimming pool that is filled entirely with water from nearby natural springs. Over the years, people have come to this 1,000-foot-long natural limestone pool fed by underground springs to fish, swim, play and cool off from the summer heat.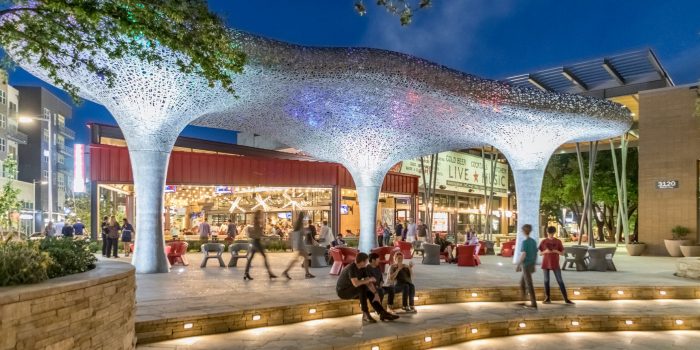 The Domain
This beautiful outdoor oasis of high end shopping, entertainment, restaurants, and year round activities for the family has made North Austin the second downtown of Austin.  Enjoy yoga or music on the lawn, grab a coffee at Starbucks and window shop the over 200 shops from boutiques to major brands at this stunning stop.
View Our Current Home Listings